Our Apartments Are Pet-Friendly!
Looking for pet-friendly apartments in Toldeo, OH? Look no further than LaSalle Apartments! As one of the few pet-friendly communities, we proudly allow cats and dogs as part of our great amenities here at LaSalle. Now your pet has the opportunity to relax by your side and enjoy the comforts of your apartment home.
Pet Policy:
LaSalle Apartments allow dogs and cats
Two pets per apartment home
A pet addendum and vet records are required
We do not allow Dobermans, Pit Bulls, Chows, Akitas, German Shepherds, Rottweilers, any non-domestic dogs or any mix of the above stated breeds. Please see the leasing office for additional breeds not allowed.
Pet Fees:
$45 monthly pet rent per pet
$300 one-time nonrefundable fee for one pet and $250 for a second pet
For further details on our pet policy, please contact our office staff.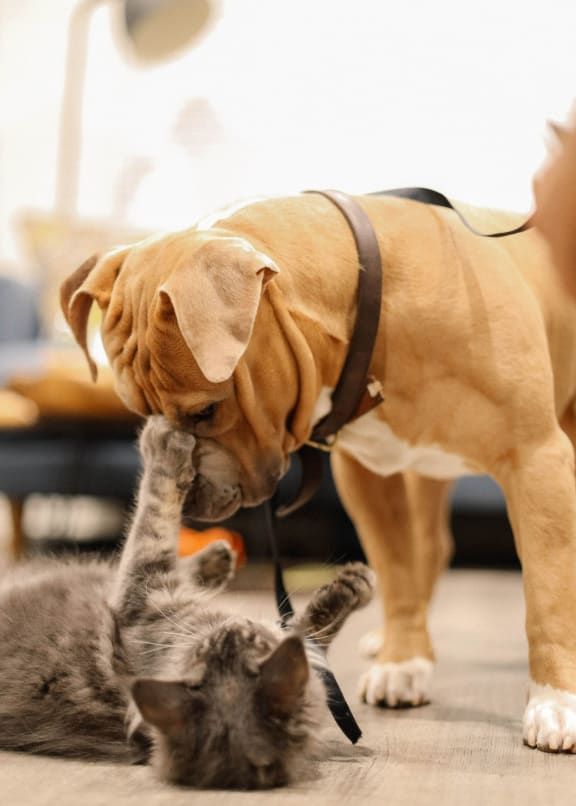 Testimonials
Living in Lasalle has been like moving into a small community. Everyone is so nice here, I never thought I would feel so safe living downtown.

- Anonymous
I have been a resident at the LaSalle for 6 years. I have had a wonderful experience. Living in a historic building at times there are maintenance issues from time to time but the management and maintenance department are always prompt resolving any issues. I have had many opportunities to move on and buy a Home but have realized that this has become my home. With all the excitement moving into downtown Toledo I cant see myself anywhere else.

- Anonymous
Moved downtown 6 months ago. Absolutely love LaSalle. The rooms are huge! The views are phenomenal. The rooftop is gorgeous. And the people and LaSalle community are very friendly. Thankful for such a great place to live.

- Anonymous
Loved living here. Safe, quiet and the office staff are friendly and professional.

- Anonymous
I think LaSalle is s great place to live. The culture of being downtown is awesome. You are close to everything. The loft style apartments with high ceilings make the apartment feel even bigger then they it already is. I only wish they had multiple entrances. With all the dogs there it would be nice to be able to avoid the bottle neck at the main entrance. The covered secured parking is great also.

- Anonymous
I have lived at the LaSalle Apartments for going on 2 years. The location is great, the rent is very reasonable, and the tenants are very friendly. But one the best features is the property management. They are very committed to tenant satisfaction and they are incredibly responsive to even the smallest issues. They make living here great!

- Anonymous
5 Star Review: I have lived at LaSalle for about 6 months......The experience of leasing was quick and easy! The building is quiet and the people that work here are excellent! Thank you to Jody for making my move easy and making me feel at home even before I moved in.

- Google Review